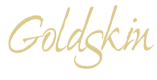 gold collection 1999
The first Goldskin was born in the end of 1999, marking the arrival of the new Millennium and the new golden era. Embodying the arrival of the golden era in fragrances, Goldskin appeared with flakes of pure 23 carats gold. The first recognition of Goldskin was in the Gulf countries that appreciated the high quality fragrance and the unique packaging. Once this perfume was appeared in the most prestigious stores and boutiques in the world, customers were affected by its uniqueness and difference from other spirits. The fragrance is very feminine, with sweet notes, combined with gold and creates in an atmosphere of luxury. By creating the bottle for Goldskin, we wanted to push the limit and explore other possibilites with the design.. the glass bottle turned absolutely essential to the success, created a practical and polished hands and brought to perfection by Spanish masters. By placing in a box that reflects the big amount of effort we have put into thie creation, Goldskin gained a final form.
Of course, the structure of Goldskin and almost the entire collection of Ramon Molvizar resembles mineral crystals found deep within the earth. Then, the whole world have learned to appreciate the design we have done differently and goldskin have become one of our most iconic perfumes.
We remember when we have discussed among designers about the effectiveness of the inverted bottle in terms liquid pressure and the spray effectivness. To prevent and tackle any problems for us have developed a unique spray that is able to spray gold.
Most niche retailers appreciated Goldskin as a master perfume .A bottle; as the most complex and creative! And so was born the famous Goldskin Ramon Molvizar. after him, an inspiration was given for the entire series. Goldskin is a perfumes that is timeless as it is not affected by trends or fashions. This is a perfume that will be appreciated for many years to come.