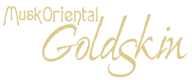 gold collection 2007
This is truly a delightful aroma crowned fragrance for each and every one of us! It appreciated by fans of all genders and Age of / from young people to advanced age.
It is for women and men.Boys and girls.
It felt here elegant innocence, quiet elegance, aristocratic sensual, he at the same time still quite presentable, creates a pleasant atmosphere .. extraordinary shining and quiet at the same time, MUSK ORIENTAL GOLDSKIN opened a new era of musk fragrances.